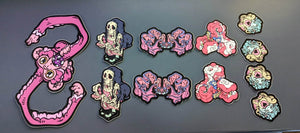 Today we are releasing 60pcs of the 10 count T.Wei x MAS sticker packs. We originally made 100 packs and sold and gifted away at Secret Dreams 2022. This is the remaining leftovers from that for the online drop portion. 



Sticker Pack includes: $25 shipped USA - No Limits
1- Jumbo Chimp
2- Deaths
2- Ratbirds
2- Scamps
4- Mermaid T.Wei x Yoii Collab

Bonus Items:
10- Yoii Felis Solaris x Yoii BB's 

Notes:
Notes: All orders will be combined to same address and individually sealed and marked who's package is who's inside the package. All sales are final and no refunds. These Items are in hand and will ship by next business day, please double check address after placing order.