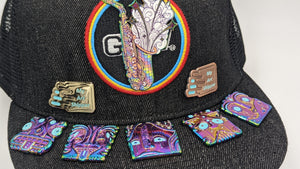 Grizmas 2pc Bundle. 1 Per Person, Please sit out if you received one from the original drop already.***

Whats included: 

1-$35 LE 69 Astro Funk x Austen Zaleski

1-$15 random LE25 Ano 3D block head by FIG

1-Random MAS slap pack- 4-6 Asst stickers. 

Possible BONUS items:
10- Yoii bb's added
10- Random MAS AP's added

Notes: No 3d MAS logos will be included ***
Notes: All orders may be combined to same address and individually sealed and marked who's package is who's inside the package. All sales are final and no refunds. These Items are in hand and will ship by next business day, please double check address after placing order.